Available for Dine-in/out, Carryout, Delivery
Try our Outdoor Dining! Our seating is completely covered and protected from rain, wind, sun, and storms. Perfect for any weather.
Indoor, Outdoor, & Bar Seating Available
New Happy Hour Specials!!
Chef's Vegetable
Baked Potato, Chipotle Brussels Sprouts, Bacon Green Beans, Coleslaw, Linguine Vegetables
Soup of the Day
Appetizers
Limited Availability!! 4 Jalapeno halves stuffed with Lump Crab and topped with Imperial Sauce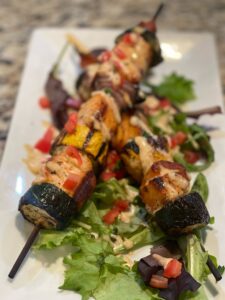 2 grilled skewers filled with Salmon, Yellow Squash, Zucchini, Green Peppers, Red Onions, & Grape Tomatoes drizzled with an Old Bay Horseradish Sauce
Specialty Salad
Sweet Peaches, Feta Cheese, Glazed Pecans, and Cucumbers atop a bed of Mesculin Greens, finished with a Balsamic Glaze. Add Chicken $4, Shrimp $6, or Salmon $7, Avocado $2, Egg $1.25
Dinner Specials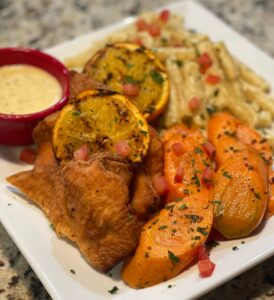 2 Marinated Chicken Breasts tossed in Flour and fried, served with a side of Orange Valencia Sauce. Served with Ziti tossed in a Creamy Alfredo Orange Sauce, and a side of sautéed Carrots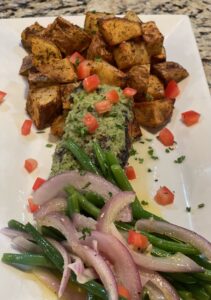 A 9oz filet of fresh Salmon topped with a Garlic Parsley Parmesan Sauce served with Thyme Roasted Potatoes and sautéed Green Beans with Red Onions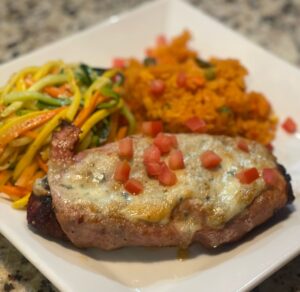 New York Cordon Bleu Steak
A 12oz NY Strip grilled to your liking and topped with Ham and Bleu Cheese, served with Mexican Rice and sautéed Linguine Vegetables
Desserts
A Giant Slice of Chocolate Cake, with Chocolate Icing, and Chocolate Crumbles.
A delicious Vanilla Bean Cake filled with warm Salted Caramel Lava, topped with Vanilla Ice Cream, Whipped Cream, and drizzled with Caramel Sauce.
Flourless Chocolate Torte
Our newest Gluten Free Dessert, served with Strawberries & Whipped Cream on the side
Gluten Free Chocolate Chip Brownie Sundae
NEW!! GF Chocolate Chip Brownie, served warm with a scoop of Vanilla Ice Cream & Chocolate Sauce
All dinner specials are served with a house salad or a cup of soup and garlic bread or regular bread. Potato soup .49 / MD Crab or Soup du Jour .75 extra. Sorry, no coupons with specials. Beer & Wine by the bottle available for Carryout or Delivery. Cocktails also available for Carryout or Delivery. Please call us for more info.