Weekly Dinner Specials
Available for Dine-in/out, Carryout, Delivery Try our Outdoor Dining! Our seating is completely covered and protected from rain, wind, sun, and storms. Perfect for any weather. Indoor, Outdoor, & Bar Seating Available New Happy Hour Specials!!
Chef's Vegetables
Baked Potato, Chipotle Brussels Sprouts, Bacon Green Beans
Soup of the Day
Appetizers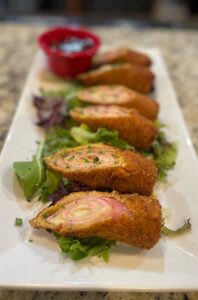 Fried Ham & Mozzarella Sticks
3 Ham & Fresh Mozzarella Roll-ups hand breaded and fried, served with a side of a Jalapeno BBQ Sauce
Specialty Salad
A bed of Mesculin Mix topped with 5 baked Boom Boom Scallops, Sliced Kiwi, Strawberries, Feta Cheese, Grape Tomatoes, Red Onion, and Sliced Almonds with choice of Dressing. Add Avocado $2, Egg $1.25
Dinner Specials
2 Chicken Breasts stuffed with Ground Beef, Corn, Green Peas, and Carrots then topped with a Chipotle Alfredo Sauce, served with sautéed Green Beans and Tomato, and Bowtie Pasta tossed in a Chipotle Alfredo Sauce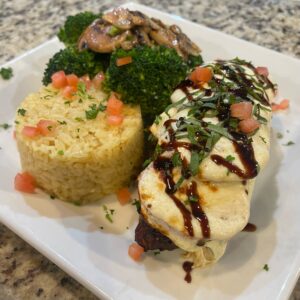 A 12oz New York Strip topped with Jalapenos, Tomato, Fresh Mozzarella Cheese, and a Balsamic Glaze served with Rice Pilaf and sautéed Broccoli with Mushrooms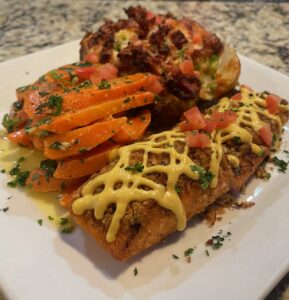 A 9oz filet of fresh grilled Salmon crusted with Coconut Breading with a Mustard Base, served with a loaded Baked Potato topped with Bacon, Mozzarella Cheese, & Broccoli, and sautéed Carrots with Basil
Desserts
Gluten Free Chocolate Chip Brownie Sundae
NEW!! GF Chocolate Chip Brownie, served warm with a scoop of Vanilla Ice Cream & Chocolate Sauce
Cookies & Cream Smith Island Cake
Nightly Dine-in Specials
Sunday – Kids Eat Free with Adult
Free kids meal per paying adult meal of $9.99 or more.
Monday – All-you-can-eat Pasta – $17
Build your own pasta dish, or try our Featured Pasta of the Week. Served with a side salad, bread, and fountain soda.
$5 glasses of wine and select martinis.
Spaghetti
Ziti
Rigatoni
Penne
Fettuccine
Linguine
Angel Hair
Wheat Penne
Gluten Free Penne (+$1)
Tomato
Meat
Marinara
Blush
Butter
Alfredo
Meatballs
Mushrooms
Sausage
Chicken
Shrimp (+$2)
Tuesday – Taco Night
A different featured taco each week in a corn tortilla. Side of wild rice. Available in 2 or 3 taco platters.
$3.50 Corona & Corona Light Bottles
$6 Margaritas (frozen or iced – traditional or flavored
Wednesday – Burger Night – $11
Create your own 8oz burger or try our weekly Specialty Burger. Served with fries and a fountain soda (or Miller Lite draft).
1/2 priced bottles of wine.
Thursday – Pizza Night – $11
Create your own personal 10" pizza with up to 5 toppings, or choose any of our Specialty Pizzas (except Chesapeake & Supreme)
$3.50 Yuengling Drafts, $8.50 Yuengling Pitchers
$6 Crushes (Orange, Lemon, Strawberry Lemonade, Grapefruit, frozen or iced)