Weekly Dinner Specials
Available for Dine-in/out, Carryout, Delivery Try our Outdoor Dining! Our seating is completely covered and protected from rain, wind, sun, and storms. Perfect for any weather. Indoor, Outdoor, & Bar Seating Available New Happy Hour Specials!!
Chef's Vegetable
Baked Potato, Chipotle Brussels Sprouts, Bacon Green Beans, Linguine Vegetables
Soup of the Day
Chicken & Spinach Rice Soup
Appetizers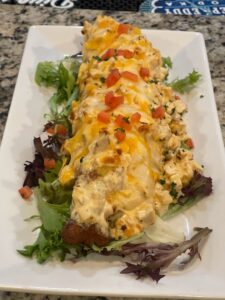 A warm Cream Cheese blend mixed with all white Chicken & Buffalo Sauce, topped with Shredded Cheddar Cheese, and served on a Braided Pretzel.
Specialty Salad
A bed of Mesculin Mix topped with 5 baked Boom Boom Scallops, Sliced Kiwi, Strawberries, Feta Cheese, Grape Tomatoes, Red Onion, and Sliced Almonds with choice of Dressing. Add Avocado $2, Egg $1.25
Dinner Specials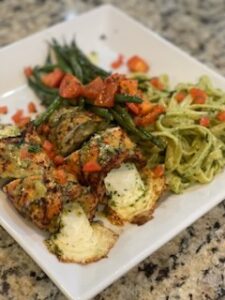 Fresh Mozzarella Pesto Chicken
2 Chicken Breasts rolled with Fresh Mozzarella Cheese and tossed in a Pesto Sauce, served with sautéed Green Beans & diced Tomato, and Fettuccine in a Pesto Sauce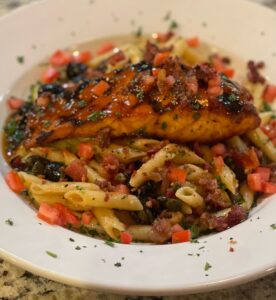 9oz filet of fresh Grilled Salmon topped with a Sweet Tso Sauce and served over Penne Puttanesca with Capers, Black Olives, Tomatoes, Garlic, and Bacon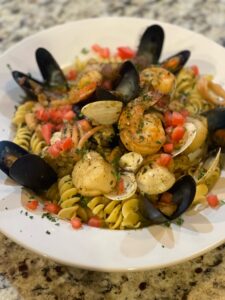 3 Jumbo Shrimp, 3 Scallops, Mussels, Clams, Calamari, with cubed Steak, Rockfish, & Swordfish tossed in a Pesto Basil Sauce over Rotini
Desserts
A Giant Slice of Chocolate Cake, with Chocolate Icing, and Chocolate Crumbles.
A delicious Vanilla Bean Cake filled with warm Salted Caramel Lava, topped with Vanilla Ice Cream, Whipped Cream, and drizzled with Caramel Sauce.
Flourless Chocolate Torte
Our newest Gluten Free Dessert, served with Strawberries & Whipped Cream on the side
Gluten Free Chocolate Chip Brownie Sundae
NEW!! GF Chocolate Chip Brownie, served warm with a scoop of Vanilla Ice Cream & Chocolate Sauce
All dinner specials are served with a house salad or a cup of soup and garlic bread or regular bread. Potato soup .49 / MD Crab or Soup du Jour .75 extra. Sorry, no coupons with specials. Beer & Wine by the bottle available for Carryout or Delivery. Cocktails also available for Carryout or Delivery. Please call us for more info.
Nightly Dine-in Specials
Sunday – Kids Eat Free with Adult
Free kids meal per paying adult meal of $9.99 or more.
Monday – All-you-can-eat Pasta – $17
Build your own pasta dish, or try our Featured Pasta of the Week. Served with a side salad, bread, and fountain soda.
$5 glasses of wine and select martinis.
Spaghetti
Ziti
Rigatoni
Penne
Fettuccine
Linguine
Angel Hair
Wheat Penne
Gluten Free Penne (+$1)
Tomato
Meat
Marinara
Blush
Butter
Alfredo
Meatballs
Mushrooms
Sausage
Chicken
Shrimp (+$2)
Tuesday – Taco Night
A different featured taco each week in a corn tortilla. Side of wild rice. Available in 2 or 3 taco platters.
$3.50 Corona & Corona Light Bottles
$6 Margaritas (frozen or iced – traditional or flavored
Wednesday – Burger Night – $11
Create your own 8oz burger or try our weekly Specialty Burger. Served with fries and a fountain soda (or Miller Lite draft).
1/2 priced bottles of wine.
Thursday – Pizza Night – $11
Create your own personal 10" pizza with up to 5 toppings, or choose any of our Specialty Pizzas (except Chesapeake & Supreme)
$3.50 Yuengling Drafts, $8.50 Yuengling Pitchers
$6 Crushes (Orange, Lemon, Strawberry Lemonade, Grapefruit, frozen or iced)